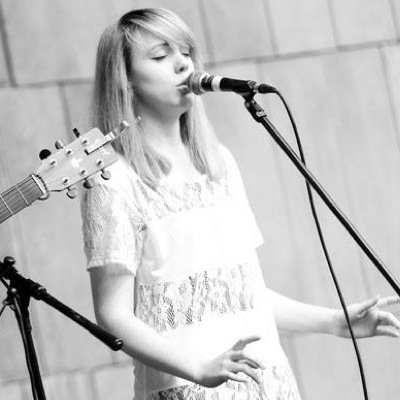 Megan Collins!
Pull the party poppers, ring the bells I'm on time this week! You may be thinking ''has Izzy finally got her life together?'' sadly no. The reason I am on time this week (for once) is because I was so excited for this weeks post. This weeks post is an Interview with the fabulous Megan Collins. Megan is a 17 year old (and ten months) singer/songwriter/guitarist for county Cork. I first came across Megan when I saw her cover of Peroxide by Nina Nesbitt (y'all know how much I love her) on her youtube channel. The minute I heard her sing I was blown away by her outstanding vocals and brilliant guitar playing and absolutely flawless original songs I instantly knew I was going to love this girl's covers. Fast forward a few months and I saw one of her vlogs and noticed her fabulous Irish accent. Me being Irish blogger and her being an Irish youtuber I instantly thought I need to interview this girl. I had wanted to interview someone for my blog for a long time but could never find someone who fit the bill until I stumbled across Megan. After watching her vlog I sent her a quick Tweet to see if she'd be interested . She replied very shortly afterwards. After a week of many twitter conversations and E-mailing each other back and forth I give you my interview with Megan Collins.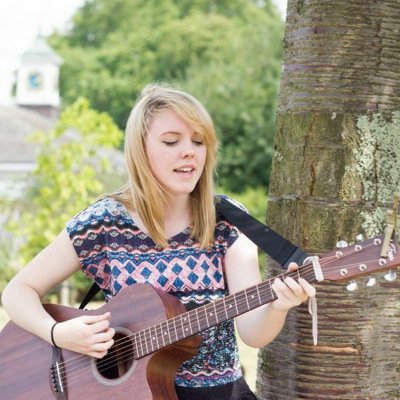 what inspired you to start playing guitar/singing/writing songs?
I think, for me, singing was just a natural occurrence and it just kind of happened! Guitar was more of a "I need something to go with my senseless lyrics" type of thing, but I really loved it from the moment I picked up a guitar at 11 years old. As for songwriting, I'm still not sure where it came from. I was a curious human and still am to this day! So I was always wondering where songs came from and how they were made and what instrument made a certain sound. I guess I just developed it from my curiosity.
who is your biggest inspiration?
My biggest inspiration, to date, without a doubt, is definitely my mother and my grandmother. They've both been through so much, but they still keep their heads held high and they both love selfishly. I really admire them for that
.
who are your favourite artists?
This is the type of question that someone asks you and you suddenly forget everything you know about yourself... I listen to different varieties of music but these days I'm LOVING Nina Nesbitt, George Ezra, Kodaline, Hozier, Ed Sheeran, Mike Dignam and Taylor Swift.
when will the new E.P be released?
The EP is still in the process of being recorded. We have the basic structures of the tracks and so it's all just a matter of building on things and piecing them together, so we can hopefully get everything down as soon as possible. I'm aiming for the end of the summer for it to be released, but we still need to discuss those types of deta
il.
what's your favourite album by another artist?
It's definitely a tie between Nina Nesbitt's 'Peroxide', Kodaline 'A Perfect World' and George Ezra's 'Wanted On Voyage'. I'm a horror for choosing just one!
when did you start writing songs?
I started writing songs when I was about 9 years old. They weren't very good and were a bit mellow-dramatic, but I started taking it seriously since I was 12 or 13.
when did you start singing?
I can't remember a time when I wasn't singing! As I mentioned before, it was just a natural occurrence to me, so I started quite young with that. However, much like my songwriting, I wasn't very good at the beginning. I only took it seriously from the age of 8 or 9, onwards.
who would you like to be as famous as?
I'm not really a girl that would look for fame. I just want to be known for my music and not who I'm dating, what my diet plan/workout routine is (not that I have one, pfft!)/what the latest scandal in my life is. All I really look for is to be heard and have some support behind me throughout that journey.
when did you start playing guitar?
I started playing the guitar when I was about 11 or 12 years old. I still have and use my first ever guitar that I bought in a local toy shop!
why did you decide to start you tube?
I watched YouTube for years before I started uploading. I would see these people that post makeup tutorials and I vlogs and I would sit there forever, just fascinated by these people. Then I came across the music side of YouTube and saw that people would cover songs and post their own song and at the same time, they would get free feedback that would be brutally honest. I begged and pleaded my mam if I could post covers/originals every day, however she didn't really approve of putting her 13-year-old daughter on the World Wide Web. Eventually, on the 25th of November, 2011, I was granted permission to post my winning school talent show performance. We were both on such a high we felt that it was a good time to post it. And thus, my YouTube hobby was born!
what was the name of the first song you ever wrote and who/what was it for?
The first song I had ever written was when I was 9 years old. It was called 'Life' and it should never be heard by anyone that roams this planet, ever. I don't remember much of it other than the opening lines of "Step one: step away from me. Step two: keep dreamin' on." I was so proud of it, I actually hung it up on my bedroom door for 4 years. *Cringe*
favourite song(s) ?
Again, I have suddenly forgotten everything about myself... I have been listening to my favorite artists a lot and I've just recently purchased George Ezra's new album. (NO REGRETS.) I really like 'Budapest' and 'Blame It On Me'. I also like Nina Nesbitt's 'Some You Win' because it's ridiculously relatable.
name of the E.P?
I still need to decide on a name for this EP! I honestly have no idea what to call it.
when did you first perform one of your original songs live?
The first time I ever performed an original song live was at my school talent show back in 2011. I was 15 and it was a song called 'Argue'. It was the first proper song that I wrote by myself and I performed it without realising until a few minutes before I went on stage that the person it was about was in the crowd! But I came first and that performance turned out to be my first ever YouTube video, so I must have done something right.
what other careers did you consider pursuing ?
It was always in the back of my mind that music isn't always an easy thing to break into and it's not always 100% financially supportive, so I decided to look at other options. I quite like drawing and getting creative, so I looked into graphic and media design. I also looked into child psychology. I even considered dog grooming! There's just something so therapeutic about grooming a dog!
who influenced you to start music?
This question is definitely answered with my family. I grew up in a household of different music and so they all had an impact on my musical tastes and influences. The music would range from UB40 to Alanis Morissette to Spice Girls to Bob Marley to Joe Dolan. There was the occasional Irish traditional music thrown into the mix as well, so I think my family are definitely to blame for that!
were is your dream venue to headline?
I would absolutely LOVE to headline Live At The Marquee in my hometown or O2 academy in Dublin. I'm not quite there yet, but with hard work and determination, I could be!
celebrity crush?
Zac Efron. Hands down.
I would like to say a big thank you to Megan for agreeing to do this. I had so much fun E-mailing her and tweeting her. I'll leave the link to her twitter/instagram and facebook page if y'all want to give her a follow. You should all definitely check out her youtube channel that link will also be below.
I hope you all had fun reading this post as I had writing it and hopefully I'll Be on time next week (who knows maybe Megans interview will encouraged me to be time from now on)
-Izzy
Megans links.
I will leave you with a video of Megan singing her original song 'funny how that works'. I chose this one because it is my favourite song by her. Well so far I'm sure when her E.P is released it'll be jam packed with even more flawless songs.