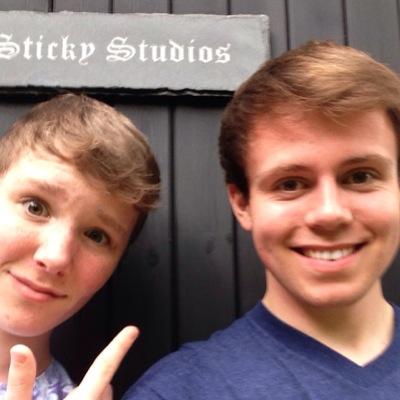 Padraig left David right.
Today I have another interview with Irish duo Resonance. Resonance consists of David (18) from Co.Clare and Padraig (14) from Dublin. You might remember from my last post were I mentioned how I came across them when I was at the Orla Gartland gig last February and for all the people who got the presale tickets we were lucky enough to have a Taylor swift jam session with David and Orla and truth be told be told David was pretty impressive! In fact he was so good that I actually did a bit of twitter creeping until I came across his account so I could tweet to tell him how great he was and I discovered he had his very own youtube channel with Padgraig. I went on to have a quick glance to see what type of covers they were doing and I was hooked once I saw they had covered 'amnesia' by 5 seconds of summer. I didn't need to think twice when I clicked that subscribe button. It wasn't just the covers that I thought were great It was also there own original songs that they had up on there channel. One of the originals that I reall enjoyed was 'Forever' which as David said in the interview was there most popular song to date!
Now before you read the interview I would like to thank David and Padraig for agreeing to do this and that I had great fun getting to know them over the past few months.
what inspired you to start playing guitar/singing/writing songs?
D:
Well I was always surrounded by music growing up, because Doolin is really popular for traditional music. I was playing tin whistle and traditional fiddle in pubs from the age of 8 but to be honest, my heart wasn't in trad music at all. It was more of a routine playing the tunes than an artistic expression, which I think music essentially ought to be. For me, it was Taylor Swift's second studio album "Fearless" which changed my view of music irrevocably and inspired me to begin playing guitar. I remember just being completely enchanted by the lyrics, the music, the simplicity and just how relatable the album was. The sincerity of the lyrics in particular captivated me, and so 2 months after buying the album, I bought my first guitar. The evening of my very first lesson, when the only chords I could play were C and A minor, I wrote my first song. It was called "Walk Away", and it was the cringiest possible heartbreak song, because not only were the lyrics extremely cheesy, but I had absolutely NO experience at all with a similar situation so it was all just speculation on my behalf. But I guess just like a short story, I envisioned two characters in my head and wrote this story about their relationship and then set it to music. That's still the way I approach writing some of my songs, I love just getting lost in someone else's story, especially when you get to dictate how the story goes. Sometimes the idea I have in mind when I begin writing a song may be completely changed by the time I finish writing it, but I suppose that's the beauty of it. Then other songs, the ones that are really personal, tend to just flow and you could have the whole song penned in less than 20 minutes. That's what happened when I wrote "Forever", which is our most popular song to date, nearly 3 years ago.
P: Writing and Playing was a great way to express myself through music
who is your biggest inspiration?
D:
My greatest inspiration personally is Taylor Swift, from her incredible story of how she fought to be noticed by a label, to her unique style of songwriting, and the way she has never really let fame drive her off the rails. If there was only one person I could look to in order to learn all there is to know about music, it would definitely be Taylor.
P: James Blunt
who are your favourite artists?
D:
Along with Taylor Swift, I am a huge fan of Ed Sheeran, Lana Del Rey, James Blunt, Ellie Goulding, Gabrielle Aplin, Birdy, Lauren Aquilina, Colbie Caillat, Nina Nesbitt, Christina Perri, Gavin James, Orla Gartland and Hozier (just to name a few :P)
My iPod is filled with the most random selection of music though, from hardcore pop, to country, singer/songwriter to musical theatre and classical... My motto with regard to music is "If it sounds good, I'll listen". I hate when people say they only listen to a certain genre of music and disregard any other type of music in the process. Maybe it's just me, but judging from my random selection of songs which I listen to, even I don't know where our sound as a musical act could end up eventually!
P: The Rolling Stones, James Blunt, Gavin James, Ed Sheeran
what's your favourite album by another artist?
D:
My personal favourite album is "Speak Now" by Taylor Swift
P: Live at Whelans' By Gavin James
when will the new E.P be released?
D:
We're really hoping to record our first EP over the coming summer (once this god damned leaving cert is finished!!!) but we don't have a set date as of yet.
P: Late Summer/Early Autumn
why did you decide to start you tube?
D:
We decided to start posting youtube videos a year ago this week actually, after we won a duet competition at the Interschools Music Festival in Wesley College, Dublin last March and lots of people began asking us did we have a youtube channel. Not only do we have great fun recording the videos and covering our favourite popular songs, but youtube is such a great way to get your material out there today and it'd be stupid of us to ignore it. There are so many benefits of uploading youtube, but I think the most gratifying one is the encouragement we can get from people on youtube, it really does mean so much when someone says a video of ours made them smile, or they've listened to it more than once.
Of course, being on youtube also led us to the Sticky Studios "Sticky Sessions" competition which we won. We flew over to London last August to record our song "Forever" in sticky studios (where Ed Sheeran, Nina Nesbitt, Birdy and Christina Perri have all recorded) obviously, it was beyond amazing to get the chance to record in sticky, but we learned so much from that trip and the guys in the studio were so unbelievably sound. The whole experience gave us a taste of what professional recording could be like and u think it's safe to say we've been hooked since. So hopefully we'll be back to the studio this summer once exams are finished to record our first EP
P: We decided to start Youtube after we won a duet competition in Dublin together
when did you first perform one of your original songs live?
D:
We started busking last Easter. Since then, we've busked in Dublin, Galway, Athlone & Ennis. There is such an amazing thrill when a crowd gathers to watch and listen to you, and even more so when they all enjoy the music. Busking, while being probably the most fun activity in my opinion, is also an extremely valuable way to learn how to play for crowds and learn certain tricks to keep people's attention. It's in busking that we test out new material and covers. Our first proper gig was at the Éigse Arts Festival in Carlow last June. That was our first experience playing a full hour on stage for a crowd while amplified, and no exaggeration, we didn't want to come down from the stage when our slot was up! It was in Galway I think that we first played "Forever" publicly and it went down an absolute treat thankfully!
P: Wesley Music festival in Dublin city
what made you want to start singing together?
D:
We began singing together when we were cast as the 2 main parts in a school show and we had lots of free time between rehearsals in which we began jamming initially, then for the craic we decided to enter the competition in Wesley without much expectation, and once that led to youtube well... As they say, the rest is history!
P: Our voices really complimented each others and we have a great connection and understanding in music and personalities
were is your dream venue to headline?
D:
It's quite a far fetched idea, but the dream venue would be croke park or some massive stadium, simply because the videos alone from these legendary gigs in these huge venues seem so full of energy and the crowds screams just sound INSANE. But realistically for the moment, the Olympia theatre or Vicar Street would be amazing venues to play in
P: Croke Park in Dublin
celebrity crush?
D:
my celebrity crush is Chloë Grace Moretz. She's just perfection.
P: Chloë Grace Moretz
Once again thank you so much to both David and Padraig for agreeing to do this now I'm going to finish this post with the youtube video of there sticky studios session which was mentioned earlier on in the blog post and I'm also going to leave the link to there youtube and twitter accounts.
if you would like to see Resonance live the will be supporting Dublin boy band taken on Saturday April 18th so make sure you grab yourself some tickets for that.
I hope you all enjoyed that post
Izzy x